Posts for: August, 2014
By ason A. Dunville, D.D.S, P.C. General Dentistry
August 25, 2014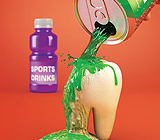 Look around and you'll find warning labels on lots of household items: alcoholic beverages, drain uncloggers, pesticides and pool toys (not to mention cigarettes and chainsaws). Now, California lawmakers are proposing to add one more item to the list: sugary soft drinks. A bill to that effect recently passed the California state Senate, and is presently headed to the Assembly. If approved by both houses and signed by the governor, it would require sugary beverages to carry a warning label.
The proposed label would read: "STATE OF CALIFORNIA SAFETY WARNING: Drinking beverages with added sugar(s) contributes to obesity, diabetes, and tooth decay." It would appear on drink packaging and vending machines. While some may feel it's an infringement on personal choice, recent polling seems to show that the tide of public opinion may have turned toward recognizing the potential health dangers of sugary drinks.
How real are those dangers? The medical groups sponsoring the bill (including the California Medical Association) point to numerous scientific studies showing, among other things, that:
Drinking one soda per day increases an adult's likelihood of being overweight by 27 percent — and for a child, the likelihood is doubled!
Drinking one or two sodas per day increases the risk of developing type II diabetes by 26 percent.
People who drink two to three sodas per day are 2.75 times more likely to have a heart attack.
Drinking sugary beverages daily for only two weeks increases LDL ("bad") cholesterol and triglyceride levels by 20 percent; over a longer period, it has even worse effects.
Children who consume sugary beverages are much more likely to develop tooth decay.
No matter where you stand on the debate over warning labels, you should understand the potential dangers of consuming foods and beverages with added sugar. For years, dentists have been cautioning people to limit their intake of sugary treats, including sodas and other sweets. Initially, our warnings came from the standpoint of oral health. Now, we have evidence that many other health problems have the same cause. We want to share this information with you because we're concerned about your overall health — not just your oral health. You can learn more by reading the Dear Doctor magazine article "Think Before You Drink."
By ason A. Dunville, D.D.S, P.C. General Dentistry
August 15, 2014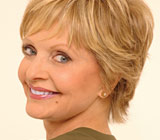 Life lessons are learned in the most surprising places. This is no different for celebrities. Take, for example, Florence Henderson, an actress, singer, philanthropist, author and star of the hit television series, The Brady Bunch. As she told Dear Doctor magazine, her experience with having four impacted wisdom teeth removed — at the same time — "...only made me more aware of how important dental care is." She continued, "This is why I have always gone every six months for a check up."
Another important lesson we want to share is the fact that even if your impacted third molars (wisdom teeth) are not bothering you or causing any pain, you may still need to have them removed.
Why? Having a tooth submerged below the gum, pressing on the roots of other teeth is problematic; the tooth should be removed so that you can avoid major dental problems before they occur. For example, it is not uncommon for us to find an impacted third molar pressing against the roots of the adjacent second molar. Furthermore, because the enamel crown of this impacted tooth is trapped below the gum, we sometimes find an infection, gum disease or even cyst formation occurring.
Often, the best time to remove a wisdom tooth is when it is not causing any problems. This is because a painful wisdom tooth or pain in the area of the wisdom tooth may be a sign that significant damage has occurred or is occurring. It is also better to remove wisdom teeth when you are young, as young healthy people with no prior infections at the site provide the best opportunity for us to remove the tooth with no complications.
To learn more about impacted wisdom teeth, continue reading the Dear Doctor magazine article "Removing Wisdom Teeth." Or if you suspect or already know that you have an impacted wisdom tooth, contact us today to schedule an appointment so that we can conduct a thorough examination that includes x-rays. During this private consultation, we will also address any questions you have as well as your treatment options. And if you want to read the entire article on Florence Henderson, continue reading "Florence Henderson."