Posts for: April, 2015
By ason A. Dunville, D.D.S, P.C. General Dentistry
April 23, 2015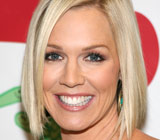 Plenty of parents use little tricks to persuade young ones to eat their vegetables, wash their hands, or get to bed on time. But when actress Jennie Garth wanted to help her kids develop healthy dental habits, she took it a step further, as she explained in a recent interview on Fox News.
"Oh my gosh, there's a froggy in your teeth!" the star of the '90s hit series Beverly Hills 90210 would tell her kids. "I've got to get him out!"
When her children — daughters Luca, Lola, and Fiona — spit out the toothpaste, Garth would surreptitiously slip a small toy frog into the sink and pretend it had come from one of their mouths. This amused the kids so much that they became engaged in the game, and let her brush their teeth for as long as necessary.
Garth's certainly got the right idea. Teaching children to develop good oral hygiene habits as early as possible helps set them up for a lifetime of superior dental health. Parents should establish a brushing routine with their kids starting around age 2, when the mouth is becoming filled with teeth. A soft, child's size toothbrush with a pea-sized dab of fluoride toothpaste and plenty of parental help is good for toddlers. By around age 6, when they've developed more manual dexterity, the kids can start taking over the job themselves.
Here's another tip: It's easy to find out how good a cleaning job your kids are doing on their own teeth. Over-the counter products are available that use a system of color coding to identify the presence of bacterial plaque. With these, you can periodically check whether children are brushing effectively. Another way of checking is less precise, but it works anywhere: Just teach them to run their tongue over their teeth. If the teeth fell nice and smooth, they're probably clean, too. If not... it's time to pull out the frog.
And don't forget about the importance of regular dental checkups — both for your kids and yourself. "Like anything, I think our kids mirror what we do," says Garth. We couldn't agree more.
If you need more information about helping kids develop good oral hygiene — or if it's time for a checkup — don't hesitate to contact us and schedule an appointment. You can learn more in the Dear Doctor magazine article "How to Help Your Child Develop the Best Habits for Oral Health."
By ason A. Dunville, D.D.S, P.C. General Dentistry
April 08, 2015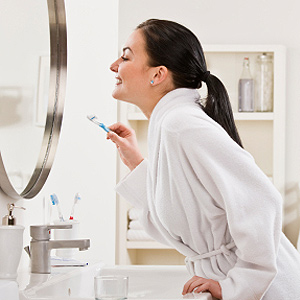 We all experience the occasional bout of bad breath from dry mouth or after eating certain foods. Chronic halitosis, on the other hand, could have an underlying health cause like periodontal (gum) disease, sinus infections or even systemic illnesses like diabetes. Anyone with persistent halitosis should undergo a thorough examination to determine the root cause.
If such an examination rules out a more serious cause, it's then possible the particular population of bacteria that inhabit your mouth (out of a possible 600 or more strains) and your body's response makes you more susceptible to halitosis. After feeding on food remnants, dead skin cells or post-nasal drip, certain types of bacteria excrete volatile sulfur compounds (VSCs) that give off an odor similar to "rotten eggs."
In this case, we want to reduce the bacterial population through plaque removal, which in turn reduces the levels of VSCs. Our approach then is effective oral hygiene and perhaps a few cleanings — the basics every person should practice for good oral health — along with a few extra measures specific to chronic halitosis.
This calls for brushing and flossing your teeth daily. This will remove much of the plaque, the main breeding and feeding ground for bacteria, that has accumulated over the preceding twenty-four hours. In some cases, we may also recommend the use of an interproximal brush that is more adept in removing plaque clinging to areas between the teeth.
You may also need to pay special attention in cleaning another oral structure contributing to your bad breath — your tongue. The back of the tongue in particular is a "hideout" for bacteria: relatively dry and poorly cleansed because of its convoluted microscopic structure, bacteria often thrive undisturbed under a continually-forming tongue coating. Simply brushing the tongue may not be enough — you may also need to use a tongue scraper, a dental device that removes this coating. (For more information, see the Dear Doctor article, "Tongue Scraping.")
Last but not least, visit our office for cleanings and checkups at least twice a year. Professional cleanings remove bacterial plaque and calculus (hardened plaque deposits) you're unable to reach and remove with daily hygiene measures. Following this and the other steps described above will go a long way toward eliminating your bad breath, as well as enhancing your total oral health.
If you would like more information on treating chronic bad breath, please contact us or schedule an appointment for a consultation. You can also learn more about this topic by reading the Dear Doctor magazine article "Bad Breath: More Than Just Embarrassing."