Posts for: April, 2016
By ason A. Dunville, D.D.S, P.C. General Dentistry
April 27, 2016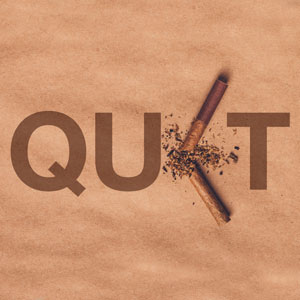 While cigarette smoking has been linked with lung cancer and heart disease, it, can also contribute to dental disease. You can reduce these risks by doing one thing — quitting smoking.
But that's easier said than done: forty-six percent of smokers try to quit every year, but only one in ten are successful long term. The difficulty is tied to tobacco's active ingredient, nicotine, an addictive substance that triggers chemical and behavioral dependence. Nicotine "re-wires" the brain to feel pleasure when it encounters the chemical, and to feel bad when it's deprived. Social, occupational or recreational activities can further reinforce the habit.
Many smokers try to quit through sheer willpower or "cold turkey." Because of nicotine's addictive properties, this rarely works — instead, you need a comprehensive strategy tailored to you.
You should begin first with trying to understand your individual smoking patterns: when do you smoke, how frequently, or during what activities? To help with this you can use a "wrap sheet", a piece of paper you keep wrapped around your cigarette pack. Each time you take out a cigarette, you would record how you feel on the sheet. This also slows down the action of taking out a cigarette and lighting it, which can help you become less mechanical and more mindful of your habit.
You can also break your dependence by gradually introducing restrictions to your smoking: smoke only in certain locations or at certain times; substitute other stress-relieving activities like a walk or other physical exercise; or gradually reduce the number of cigarettes you smoke. You can do the latter by setting a goal, say to smoke 20% fewer cigarettes each successive week; this will force you to increasingly make choices about when you smoke.
Finally, don't try to go it alone. You can benefit greatly from professionals, including your dentist, to help you kick the habit through Nicotine Replacement Therapy (NTR) with prescription medication, counseling or smoking cessation support groups.
Quitting smoking isn't so much stopping a behavior as it is "unlearning" one and establishing new, healthier ones. The first step, though, is accepting you need a change, one that will benefit your whole life.
If you would like more information on quitting smoking, please contact us or schedule an appointment for a consultation. You can also learn more about this topic by reading the Dear Doctor magazine article "Strategies to Stop Smoking."
By ason A. Dunville, D.D.S, P.C. General Dentistry
April 12, 2016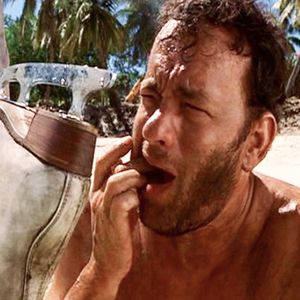 Did you see the move Cast Away starring Tom Hanks? If so, you probably remember the scene where Hanks, stranded on a remote island, knocks out his own abscessed tooth — with an ice skate, no less — to stop the pain. Recently, Dear Doctor TV interviewed Gary Archer, the dental technician who created that special effect and many others.
"They wanted to have an abscess above the tooth with all sorts of gunk and pus and stuff coming out of it," Archer explained. "I met with Tom and I took impressions [of his mouth] and we came up with this wonderful little piece. It just slipped over his own natural teeth." The actor could flick it out with his lower tooth when the time was right during the scene. It ended up looking so real that, as Archer said, "it was not for the easily squeamish!"
That's for sure. But neither is a real abscess, which is an infection that becomes sealed off beneath the gum line. An abscess may result from a trapped piece of food, uncontrolled periodontal (gum) disease, or even an infection deep inside a tooth that has spread to adjacent periodontal tissues. In any case, the condition can cause intense pain due to the pressure that builds up in the pus-filled sac. Prompt treatment is required to relieve the pain, keep the infection from spreading to other areas of the face (or even elsewhere in the body), and prevent tooth loss.
Treatment involves draining the abscess, which usually stops the pain immediately, and then controlling the infection and removing its cause. This may require antibiotics and any of several in-office dental procedures, including gum surgery, a root canal, or a tooth extraction. But if you do have a tooth that can't be saved, we promise we won't remove it with an ice skate!
The best way to prevent an abscess from forming in the first place is to practice conscientious oral hygiene. By brushing your teeth twice each day for two minutes, and flossing at least once a day, you will go a long way towards keeping harmful oral bacteria from thriving in your mouth.
If you have any questions about gum disease or abscesses, please contact us or schedule an appointment for a consultation. You can learn more by reading the Dear Doctor magazine articles "Periodontal (Gum) Abscesses" and "Confusing Tooth Pain."