Posts for: December, 2017
By ason A. Dunville, D.D.S, P.C. General Dentistry
December 21, 2017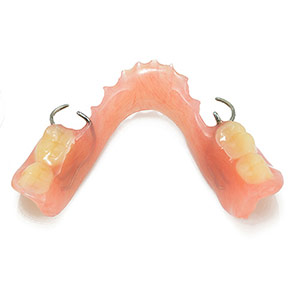 You would love to replace your missing teeth with dental implants. And for good reason — they're the best way to restore life-like, functional teeth. But there's one problem — implants and fixed bridgework (the next, best option) are financially out of your reach.
There's another viable option, though, that might fit your budget — removable partial dentures (RPDs). Similar to full dentures, RPDs replace only the missing teeth in a dental arch. And they're much less expensive than implants or bridgework.
RPDs are custom made to fit an individual patient and their particular missing teeth locations. Their frameworks are usually made of vitallium, a strong but lightweight metal alloy. With vitallium, the frame can be made thin enough not to be noticeable but still conduct sensation.
A pink resin or plastic that mimics gum tissue covers the frame, to which we attach prosthetic (false) teeth made of porcelain, glass-filled resin or plastic to precisely match the missing teeth locations. The RPD is held in place with small metal clasps that fit around remaining natural teeth.
RPDs are designed to minimize movement and avoid undue pressure on the gum ridges, which could accelerate underlying bone loss. In certain situations, though, the location of some missing teeth could complicate matters. If you're missing a tooth in the back where the appliance coverage ends, the RPD may not be as stable.
The solution, ironically, could be a dental implant placed strategically at the end of the RPD, where it connects securely with the appliance. You would only need one or two implants, which won't dramatically increase costs.
One thing to remember with an RPD: they tend to accumulate bacterial plaque, the trigger for both tooth decay and periodontal (gum) disease. That's why it's important to practice daily effective hygiene by cleaning the RPD and your remaining teeth and gums, as well as taking the RPD out at night.
A well-maintained RPD could last for many years. With this appliance you can still have functional teeth and a winning smile, even without implants.
If you would like more information on removable dentures, please contact us or schedule an appointment for a consultation. You can also learn more about this topic by reading the Dear Doctor magazine article "Removable Partial Dentures: Still a Viable Tooth-Replacement Alternative."
By ason A. Dunville, D.D.S, P.C. General Dentistry
December 06, 2017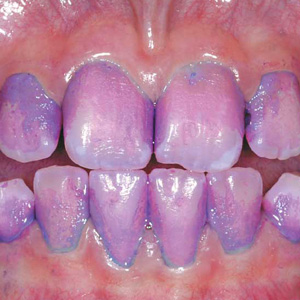 Brushing and flossing every day are important for preventing dental disease. The object is to remove as much bacterial plaque, the thin biofilm most responsible for disease, from your teeth and gums as possible.
But how do you know your hygiene efforts are that effective? You can of course do the "tongue test" â?? feel your teeth with your tongue after brushing and flossing and see if they feel smooth and "squeaky" clean. We can also give you a "report card" at your regular cleaning appointment. There is, however, a more precise way you can find out at home by using a plaque disclosing agent.
A plaque disclosing agent is a formulation that when applied to the teeth will temporarily dye any bacterial plaque present a distinct color. While dental hygienists occasionally apply them, they're also available over the counter for use at home. They're usually found in a solution, tablet or swab form in various flavors.
To use the product you first brush and floss, then swish the disclosing liquid around in your mouth for about 30 seconds before spitting it out (or chew the tablet or apply the swab as directed). The agent will react with any remaining plaque and dye it a bright color. There are even two-tone agents available that can differentiate between old and new plaque and dye them different colors.
Examining your teeth in a mirror will give you a good idea where you need to concentrate your attention when brushing and flossing. If, for example, you see dyed plaque more along the gum line and less in other places, then that's where you should focus your hygiene efforts.
While the dye will eventually wear off on its own, you should take the opportunity to brush and floss again to remove any remaining dyed plaque. Not only does this provide a more thorough cleaning at that moment, you'll also get a better sense of how "thoroughness" feels for future brushing and flossing.
It's always good to know how well you're doing with your dental hygiene efforts. A plaque disclosing agent can give you just the right feedback to help you improve.
If you would like more information on proper oral hygiene habits, please contact us or schedule an appointment for a consultation. You can also learn more about this topic by reading the Dear Doctor magazine article "Plaque Disclosing Agents."