Posts for: April, 2018
By ason A. Dunville, D.D.S, P.C. General Dentistry
April 23, 2018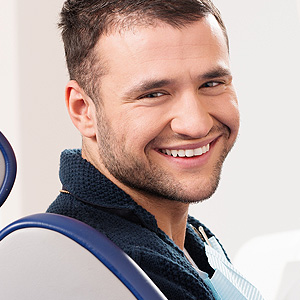 Our main focus as your dentist is to keep your teeth and gums healthy and functional. But there's another important aspect of care — your teeth's appearance. It's not just a superficial concern: your smile can have a profound effect on your self-image, as well as your personal and professional relationships.
This is the realm of cosmetic dentistry: served by both specialists and general dentists, it focuses on altering your teeth's appearance with treatments as basic as teeth whitening or as comprehensive as dental implants. The goal, however, is the same: a new, more attractive smile.
In a way, cosmetic dentistry begins with you and oral hygiene. The twin tasks of brushing and flossing to remove dental plaque not only lowers your risk for tooth decay or periodontal (gum) disease, they also improve the appearance of the tooth surface. There are, however, circumstances where otherwise healthy or repaired teeth may need extra cosmetic attention due to chipping, misshape or staining. In these cases, a truly cosmetic approach may be necessary.
One approach is to cover a tooth's blemishes. Veneers, for example, are thin, layered pieces of dental porcelain shaped and colored like natural teeth that are bonded to the outside of an unattractive tooth. In other cases, a tooth may require a life-like porcelain crown that completely covers it to gain the same effect.
Missing teeth, of course, pose a different challenge, but here there are a wide range of solutions: dental implants, fixed bridgework or removable full or partial dentures. Advancements in dental materials and techniques can produce new teeth that are so life-like and natural that they're imperceptible from the real thing.
 These and other measures like orthodontics can all be used to turn a smile you find embarrassing into one you're confident to share with the world. It begins, though, with both you and us taking a good, close look at your current smile — a smile analysis, if you will.
After assessing both your current needs and your expectations for change, we can develop an appropriate treatment plan. It might be quite simple or with multiple treatment stages, but it will be the best plan for you. Through cosmetic dentistry we have the means to help you achieve a new, more confident smile.
If you would like more information on the many ways to transform your smile, please contact us or schedule an appointment for a consultation. You can also learn more about this topic by reading the Dear Doctor magazine article "Cosmetic Dentistry: A Time for Change."
By ason A. Dunville, D.D.S, P.C. General Dentistry
April 13, 2018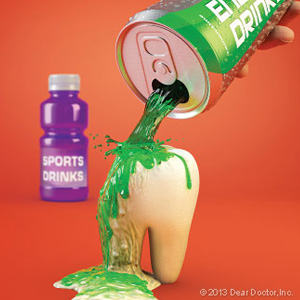 Energy drink makers would have you believe their products are a healthy rehydration choice for athletes while also giving them keener focus and renewed vitality. But before adding them to your sports regimen, you should also consider what effect these beverages could have on your teeth.
Energy drinks are similar in ingredients to sports drinks like Gatorade® and PowerAde®, which mostly consist of water, salts, vitamins, sugars and acids. In addition, energy drinks like Red Bull® and Monster Energy® add caffeine to boost energy.
Besides their sugar content, the main threat from a dental health perspective for both of these drinks is their acidity, which can severely erode tooth enamel. The irreplaceable loss of enamel significantly increases your risk of tooth decay and eventually tooth loss.
The threat of enamel erosion is especially pronounced whenever the mouth's pH level falls below 5.5. The acidity of both sports and energy drinks falls well below this mark. In one experimental study samples of enamel exposed to a number of sports drinks lost an average of 1.5% of mineral content over five days; energy drinks more than doubled that loss at 3.1%.
Given the potential harm these beverages, especially energy drinks, can cause your teeth, you should exercise caution when consuming them. In fact, our best advice is for you to avoid energy drinks altogether, for your overall health as well as your teeth's sake.
Unless you're participating in a physically intense sport, water is your best source for hydration after exertion. Â If you do drink sports beverages, try to limit them to meal times when your saliva is most active to neutralize mouth acid. You can also rinse out your mouth with water after drinking to help further reduce mouth acidity.
As an athlete, you've trained your body to be at its optimum physical peak. Don't let energy or sports drinks take the edge off your health, especially your teeth.
If you would like more information on the effects of sports or energy drinks on dental health, please contact us or schedule an appointment for a consultation. You can also learn more about this topic by reading the Dear Doctor magazine article "Sports and Energy Beverages Bathe Teeth in Erosive Acids."