Posts for tag: orthodontic treatment
By ason A. Dunville, D.D.S, P.C. General Dentistry
November 24, 2016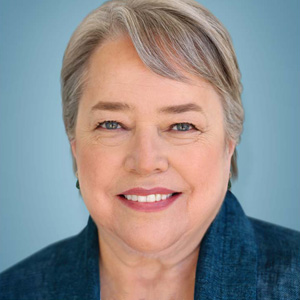 In her decades-long career, renowned actress Kathy Bates has won Golden Globes, Emmys, and many other honors. Bates began acting in her twenties, but didn't achieve national recognition until she won the best actress Oscar for Misery — when she was 42 years old! "I was told early on that because of my physique and my look, I'd probably blossom more in my middle age," she recently told Dear Doctor magazine. "[That] has certainly been true." So if there's one lesson we can take from her success, it might be that persistence pays off.
When it comes to her smile, Kathy also recognizes the value of persistence. Now 67, the veteran actress had orthodontic treatment in her 50's to straighten her teeth. Yet she is still conscientious about wearing her retainer. "I wear a retainer every night," she said. "I got lazy about it once, and then it was very difficult to put the retainer back in. So I was aware that the teeth really do move."
Indeed they do. In fact, the ability to move teeth is what makes orthodontic treatment work. By applying consistent and gentle forces, the teeth can be shifted into better positions in the smile. That's called the active stage of orthodontic treatment. Once that stage is over, another begins: the retention stage. The purpose of retention is to keep that straightened smile looking as good as it did when the braces came off. And that's where the retainer comes in.
There are several different kinds of retainers, but all have the same purpose: To hold the teeth in their new positions and keep them from shifting back to where they were. We sometimes say teeth have a "memory" — not literally, but in the sense that if left alone, teeth tend to migrate back to their former locations. And if you've worn orthodontic appliances, like braces or aligners, that means right back where you started before treatment.
By holding the teeth in place, retainers help stabilize them in their new positions. They allow new bone and ligaments to re-form and mature around them, and give the gums time to remodel themselves. This process can take months to years to be complete. But you may not need to wear a retainer all the time: Often, removable retainers are worn 24 hours a day at first; later they are worn only at night. We will let you know what's best in your individual situation.
So take a tip from Kathy Bates, star of the hit TV series American Horror Story, and wear your retainer as instructed. That's the best way to keep your straight new smile from changing back to the way it was — and to keep a bad dream from coming true.
If you would like more information about orthodontic retainers, please contact us or schedule an appointment for a consultation. You can learn more about this topic in the Dear Doctor magazine articles "Why Orthodontic Retainers?" and "The Importance of Orthodontic Retainers." The interview with Kathy Bates appears in the latest issue of Dear Doctor.
By ason A. Dunville, D.D.S, P.C. General Dentistry
January 28, 2015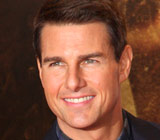 It's no surprise that plenty of teenagers go in for an orthodontic evaluation and come out wearing braces. But sometimes, an observant orthodontist may notice that an adult's smile could use a little bit of improvement, too. Even an adult like — Tom Cruise?
That's exactly what happened to the star of Top Gun, Rain Man and the Mission Impossible franchise. Cruise, then 39, was taking one of his children for orthodontic work when it was pointed out that the leading man's teeth were also out of alignment. So he opted for braces too.
"Yes, Tom Cruise has braces," said his publicist when the star appeared, sporting his new orthodontic appliances. "To him, it's no big deal." Cruise chose to get the relatively inconspicuous ceramic type, with only a thin wire visible in front of his teeth. He wore them for about a year and a half, having them temporarily removed when it was time to make a movie.
Ceramic braces are a popular choice among adult orthodontic patients, many of whom find that less noticeable orthodontic appliances fit in better with their personal or professional lifestyle. Clear aligners also provide a virtually invisible option. We can help you decide which appliance would best meet your needs. But the first step is a thorough evaluation of your periodontal health.
Is it Risky Business to get braces as an older adult? Not usually — but if you do show signs of periodontal disease, which is more prevalent in adults than teens, it's important to bring it under control before beginning your orthodontic treatment. There are also a few medical conditions, such as heart-valve disease, severe uncontrolled diabetes, and leukemia, which might preclude treatment.
For most people, however, orthodontics offers a great way to improve your appearance and boost your self-confidence — even if you're not a movie star. It is estimated that three-quarters of adults have some form of orthodontic problem; and studies have shown that orthodontic treatment can enhance an adult's career opportunities and social life.
So, if you're looking for a better smile at any age, don't hesitate to contact us or schedule an appointment to discuss your treatment options. You can learn more in the Dear Doctor magazine article "Orthodontics For The Older Adult."
By ason A. Dunville, D.D.S, P.C. General Dentistry
August 29, 2013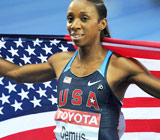 Lashinda Demus holds the U.S record in the 400 meter hurdles, with a time of 52.47 seconds, the third fastest ever recorded. While her twin 5-year-old boys cheered her on, she brought home a silver medal from the 2012 London Olympics. But when it comes to her full set of upper and lower braces, there's no silver to be seen!
Demus is a top-ranked competitor, a wife and a mom — and an adult who is currently in orthodontic treatment. With her orthodontist's approval, she chose clear ceramic braces. These are just one of the treatment options available to adult patients, many of whom prefer a less noticeable style of orthodontic appliance.
As many as three-quarters of adults are thought to have some form of orthodontic problem. Common issues include teeth that are crowded too closely together, or ones that have drifted too far apart after an extraction or other tooth loss. It is believed that straightened teeth are easier to clean and better for chewing — they can also improve an adult's social life, and even his or her career prospects!
Some grown-ups may hesitate to consider orthodontic treatment because they remember the "railroad tracks" they saw in junior high school. In fact, there have been many changes in orthodontic appliances in the past few years. Two popular choices for adults are colorless braces (the kind Demus wears) and clear orthodontic aligners.
Colorless ceramic braces are made of high-tech composite materials. They resist staining, and are less noticeable because their translucent appearance blends with the teeth. Often, a single wire is the only part that's plainly visible. Sometimes it's even possible to place them on the lingual (tongue) side of the teeth.
Clear aligners are an alternative to braces that are available to adults and teens. Instead of wires and attachments, these consist of a series of transparent, removable trays that are placed over the teeth and worn 20 hours per day. Over a period of six months to two years, the teeth are gradually straightened as you progress from one computer-designed tray to the next. Best of all, you can remove the trays completely to clean your teeth, and for important occasions.
Which one is right for you? It depends. While aligners have been successful in treating mild to moderate spacing issues, more difficult problems with the bite may require a more traditional form of braces. Also, there are a few health problems which might need to be attended to before orthodontic treatment is begun. The best way to learn about your options is to come in for a consultation. But remember: if you want a better smile, it's never too late.
If you would like more information about orthodontic choices, please contact us or schedule an appointment for a consultation. You can also learn more by reading the Dear Doctor magazine articles "Orthodontics For The Older Adult" and "Clear Orthodontic Aligners."