Posts for tag: pregnancy
By ason A. Dunville, D.D.S, P.C. General Dentistry
November 19, 2014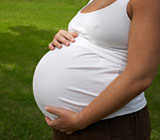 During pregnancy, a mother has many health concerns for both her baby and herself. Though it may not seem as important, dental health and development should be on that list of concerns, for both you and your baby. In fact, your baby's tooth development is already well underway just a few weeks after conception. Pregnancy can also present challenges to your own dental health that definitely deserves your attention and care.
Taking care of your own dietary needs and dental health is also the best thing you can do for your baby. The baby growing within you needs calcium, phosphorus, vitamins and other minerals for the healthy development of teeth and bones. That can only come from you eating a balanced diet rich in these nutrients.
During pregnancy, you are also more susceptible to gingivitis (inflammation of the gums) or other gum diseases because of the normal increase in the level of the hormone progesterone. In fact, some studies seem to indicate that severe gum disease might even raise the risk for premature birth and a low birth weight. It's important then to practice good dental hygiene during your pregnancy: brushing your teeth at least twice a day with an American Dental Association (ADA) approved fluoridated toothpaste, flossing and using an ADA approved mouth rinse that deters the buildup of plaque and the occurrence of gingivitis. Our office is also happy to provide you instruction on proper brushing and flossing technique to help you gain the most benefit from your daily hygiene.
By paying close attention to your own dental health and diet, you are actually doing the very best you can to provide your baby a solid foundation for a lifetime of good oral health.
If you would like more information on protecting your and your baby's oral health, please contact us or schedule an appointment for a consultation. You can also learn more about this topic by reading the Dear Doctor magazine article "Expectant Mothers: Dental facts you need to know."
By ason A. Dunville, D.D.S, P.C. General Dentistry
March 18, 2014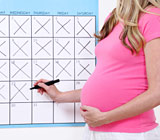 Every pregnant woman knows that her body will go through a series of profound changes as it's making a new life. Along with the alterations in overall size and changes in eating and sleeping patterns, pregnancy also affects the teeth and gums. Here are some answers to common questions women may have about oral health during pregnancy.
1) What's the most important thing I can do for my baby's oral health?
Maintain your own dental and general health! Eat a healthy and balanced diet — it provides the nutrients, vitamins and minerals needed for proper development of your baby's teeth and bones. While food cravings and aversions are common, try to at least limit your intake of sugary snacks to mealtimes. Don't neglect the good habits of brushing, flossing, and seeing your dentist regularly. This will help minimize the possibility of tooth decay or gum disease.
2) Does pregnancy make me more susceptible to gum disease?
Yes. "Pregnancy gingivitis" ("gingival" – gum tissue; "it is" – inflammation of) may develop from the second to the eighth month. This is mostly due to elevated hormone levels. In the presence of gum disease, pregnancy hormones may stimulate the production of prostaglandins, which cause inflammation of gum tissues. Occasionally, benign growths called "pregnancy tumors" may also appear on the gums during the second trimester. If they don't resolve themselves, these may be surgically removed after the baby is born.
3) With all my other concerns right now, why is the health of my teeth and gums so important?
Several studies have shown a link between periodontal (gum) disease, pre-term delivery and low birth weight — conditions which put some newborns at greater risk for health complications. There's also a correlation between more severe periodontal disease and an increased rate of pre-eclampsia, a potentially serious condition. But treating periodontal disease decreases the level of inflammation-causing prostaglandins. That's one reason why you should come into our office for an evaluation as soon as you know you're expecting.
4) Is it safe to get dental treatments while I'm pregnant?
Dental examinations and routine treatment during pregnancy is generally safe for both mom and baby. If you need non-urgent dental care, it may be most comfortable in the first five months of pregnancy. Situations requiring urgent care are managed as they arise, to treat pain and infection and to reduce stress to the developing fetus. Under the watchful eye of your dentist, it's possible to have anesthesia, X-rays and dental medications (if needed) without undue risk. So don't let worries about dental treatments keep you from coming in for a check-up!
If you would like more information about pregnancy and oral health, please contact us or schedule an appointment for a consultation. You can also learn more about this topic by reading the Dear Doctor magazine articles "Pregnancy and Oral Health," and "Expectant Mothers."